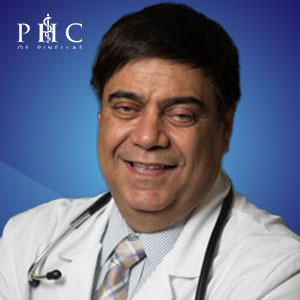 American Board of Internal Medicine
Hospital Affiliations: BayCare Alliant, Bayfront Health, HCA FL Blake/Largo/Northside/Pasadena/St Pete, Kindred St Pete, Morton Plant, Mease Countryside, Mease Dunedin, St Anthony's, Windmoor, Encompass Lakeland/Largo/Spring Hill
Languages: English, Arabic, French
Dr. Fadi Saba is a distinguished physician with a wealth of experience and expertise in the field of internal medicine. He holds the prestigious American Board of Internal Medicine certification and is known for his dedication to providing high-quality healthcare to his patients.
Education and Certification
Dr. Saba completed his medical degree at the renowned American University of Beirut, where he laid the foundation for his medical career. His commitment to excellence led him to pursue further training, and he completed his Internal Medicine Residency at Good Samaritan Hospital, which is affiliated with the esteemed Johns Hopkins System.
Professional Roles
Dr. Saba has excelled in various leadership roles throughout his career. He currently serves as the CEO and Medical Director of PHC, where his visionary leadership has contributed to the success of the organization.
Teaching and Volunteering
Dr. Saba is passionate about sharing his knowledge and expertise with the next generation of medical professionals. He serves as a teaching faculty member at HCA Florida Largo and Northside Hospital. Additionally, he generously donates his time as a volunteer faculty member at the University of South Florida College of Medicine, further demonstrating his commitment to medical education.
Consulting and Medical Directorships
As a Consulting Physician at Windmoor Healthcare Clearwater, Dr. Saba provides valuable insights and guidance to enhance patient care. He also holds the role of Medical Director for several Long-Term Care facilities in Pinellas County, where he plays a crucial role in ensuring the well-being of elderly and chronically ill patients.
Hospital Affiliations
Dr. Saba's extensive network of hospital affiliations underscores his commitment to providing comprehensive care to his patients. He is affiliated with prominent healthcare institutions, including BayCare Alliant, Bayfront Health, HCA FL Blake, Largo, Northside, Pasadena, and St. Pete, Kindred St. Pete, Morton Plant, Mease Countryside, Mease Dunedin, St. Anthony's, Windmoor, Encompass Lakeland, Largo, and Spring Hill.
Patient-Centered Care
Dr. Saba's dedication to patient care knows no bounds. He sees patients not only at the aforementioned hospitals but also at Central Ave Clinic, Princess Martha, and other long-term care facilities. His multilingual proficiency in Arabic, English, and French ensures that he can effectively communicate with a diverse range of patients, making him a compassionate and accessible healthcare provider.
Dr. Fadi Saba's illustrious career, commitment to education, and devotion to patient well-being make him a respected figure in the field of internal medicine. His tireless efforts continue to improve healthcare outcomes and elevate the standard of care in the communities he serves.