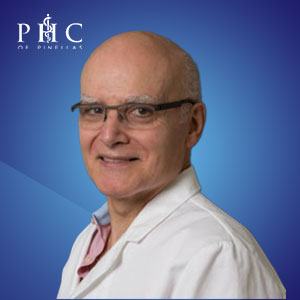 Dr. Garcia has been in practice for over 30 years, having graduated from Universidad Nacional de Cordoba in Argentina in 1983. After practicing for 8 years in his home country, he completed a 3 year residency in Internal Medicine and then a 3 year cardiology fellowship at Lenox Hill Hospital in NY.
Dr. Garcia entered private practice in South and Central New Jersey for several years, where his activity included office and hospital patients in both Internal Medicine and Cardiology, a part of multispecialty practice.
In 2001, he relocated with his family to Florida where for 12 years; he practiced as a non-invasive cardiologist for a local group. During this period, he was also involved in teaching medical students, internal medicine residents, and cardiology fellows.
In March 2014, Dr. Garcia joined Professional Health Care of Pinellas, Inc, where he works mostly as a hospitalist, returning to his roots of Internal Medicine as well as applies his training in cardiology. Dr. Garcia is bilingual and lives with his wife and beautiful 9 year old daughter in St. Petersburg.